Coffee and Bisque – WFL
Course aims
Paint, chat and chew all in one session!
This half term we are creating a great opportunity to paint a plate and share some creative time together having fun. Each enrolment is for an Adult and 1 young person (ages 5-18) and in your session you will both sketch your idea, and then learn to paint a bisque plate with your unique design. In your break we will also be offering refreshments and snacks.
The course will give the opportunity to access a ceramics studio, resources and tutor support. And you get to collect your plate once it has been fired for you, meaning you will have a functional reminder of your fun day together.
Your glazed and fired plate will be yours to keep and the finished pieces can be collected two weeks after the course date.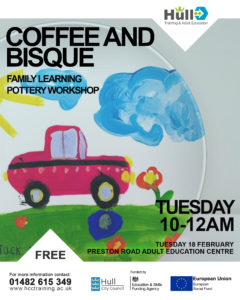 Entry Requirements
This course is for anyone who is creative with access to a working ceramics studio and resources, join in and let's have fun!
Accredited/RARPA statement
(to be agreed as a team and one version to be used)
Where can it lead?
You can progress onto a suite of family learning courses. Potter in the making and accredited courses are also available. Further learning is an asset to add to ones CV, giving you an interesting talking point, showing diverse interests and skills at interview.